Faux people...faux taxidermy. Not real taxidermy, that is not for me. I am very happy without little beady eyes staring at me (besides, I am sure it would scare the crap out of Diefenbaker). But faux taxidermy that is cool, fresh and modern...bring. it. on.
About a year ago Mr. Swell and I saw a white ceramic stag head in Urban Barn and we stared at it and stared at it. We debated, quite seriously actually. The problem was that it was $100, which was too much for us at the time - when we were really in need of a couch, not a lovely stag head. About a week later we decided that we could swing it - the stag head and the couch. So I got in the car and drove to Urban Barn to find out that it was gone. Apparently the stag head was quite popular and there wasn't a stag head to be found anywhere in Alberta. I hung my head and went home, headless.
Ever since that sad day I have been slightly obsessed with faux taxidermy. I wanted a head of my own. I debated buying a ceramic moose head off of Etsy, but was having a hard time swallowing the shipping costs (moose heads are big and cross border shipping adds up faaaast). Then during one random google search, I ran across a tutorial for a DIY faux deer head that was made out of foam core (see the tutorial
here
). A $3 piece of foam core was definitely in the budget. And a taxidermist (of sorts) was born.....
The tutorial came with PDF print outs for each of the pieces, so all I had to do was print them out then cut out each of the shapes. Once I had the shapes cut out, I traced them onto my piece of foam core (20" x 30" from Michael's).
I then used a sharp x-acto knife to cut out each of the shapes. It did take a while to get the hang of it, and I eventually found the easiest method was to cut on one side, pressing fairly hard, and then flip the foam core over and using light pressure just follow the cut line again to ensure that the paper is all cut. If the paper on both sides isn't cut, it will tear when you try and pop the shape out.
The tutorial that I used as a launching point used spray adhesive and wrapping paper to apply pattern to the shapes. I didn't have any cool wrapping paper or spray adhesive, so went to plan B. Paint and a stencil. Seemed easy enough....until I was on hour 2 of stencilling and was going slightly insane.
I used left over paint that we had from our
front door project
(Behr exterior...I'm a rebel and used it inside!) and a stencil that came in the same kit that I used for the
guest room dresser
. The trickiest part was getting the stencil lined up on some of the tiny pieces, but after some deep breathing and positive self affirmations, I eventually got it done.
Instead of stencilling the back piece, I spray painted it silver. I actually tried gluing on some faux wood scrapbook paper, but didn't like the look so I just flipped the piece over and hit it with some spray paint. Much better.
Using a little punch, I punched a hole on each side of the neck so that I could thread a wire (I used a paperclip) across for hanging. You can see the faux wood that I nixed.
Then it was assembly time. Quite easy actually, each piece just slides into the other. Miraculously my pieces fit together perfectly, so I didn't even need to use glue.
Then Mr. Deer was hung on the wall, inside a glassless frame. The frame is actually one that I had picked up at the Salvation Army a few weeks ago. I had put it on the stairs to bring down to the basement (anyone else do that...then it sits there for days??), but then tripped over it which sent it slamming down the stairs and the glass broke all over the place. So I was left with a frame with no glass. I put the empty frame in my frame closet (like any good hoarder would do) and knew I'd find a place for it. Framing Mr. Deer was the perfect fit. It didn't even need to painted, gotta love that!
Here's how the little corner in the basement is looking now....with the new painting and the
craft crap
all stored away.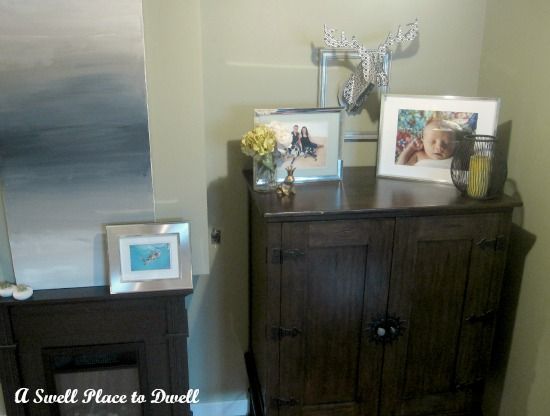 What do you think? He makes me laugh every time I see him. Mr. Deer and his beehive stencilled self, just hanging out above the craft crap cabinet. I still really want a big ceramic moose head (or maybe a rhino), but for now Mr. Deer will do. Any faux taxidermy (or real taxidermy for that matter) in your house?

By the way, we have finally come up for air after devouring 3 seasons of Sons of Anarchy in about 2 weeks. We haven't done any real projects for 2 weeks - I am just catching up writing about everything we had done already. I can't wait for season 4 to make it to Netflix, but for now I am glad to have my life back. Any Sons fans out there? Tell me I am not alone in my love for Jax.