Congratulations to comment #7, jsize(at)hotmail(dot)com who won the 2 prints from Lucy Snowe.
It's finally here! I have been so excited about this giveaway that I have barely been able to sleep. I stumbled upon
Lucy Snowe
and her fabulous photography while perusing Etsy late last year and fell instantly in love.
It was this guy that got me: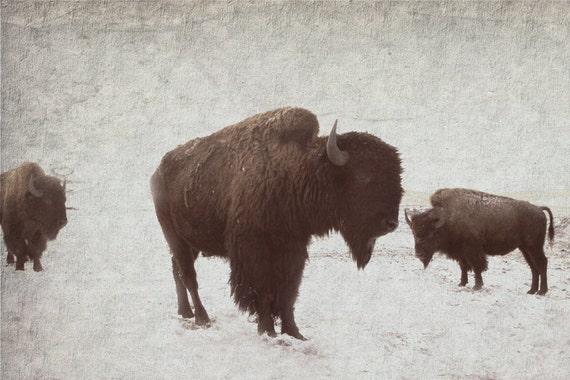 He's proudly in our living room now with two of his buffalo friends. You can see more of the living room reveal here.
We live in the city, but this reminds me of the country and of a simpler life. Bison just look so powerful and masculine to me, and I knew instantly that the picture would bring something unique to our living room. I thought about it for about a week (because I am just that way - have to justify everything) and finally Mr. Swell told me to just buy them so that I could stop talking about beautiful bison all day long! I worked with Lucy to find 3 bison that would look good together, placed my order and then waited anxiously for it to arrive. Lucy's service was second to none - she responded super quick to my emails and shipped the prints at lightning speed. They arrived within a few weeks (would have been here faster if it wasn't for customs), and I had my shiny new Ikea frames out and ready to receive them. I change my mind about a lot of things in our house, but I haven't wavered once on these babies once. I can't get enough of them.
Now one of you will get to have some lovely
Lucy Snowe Photography
in your house too! Lucy has generously agreed to give away two 11" X 14" prints to one lucky winner (insert the dance for joy here!). The best part of all, is that the winner gets to pick their prints out of Lucy's huge selection of fabulous photos.
If you're into animals maybe you'll go for this quirky little Guinea Hen - one of my new faves. Wouldn't he be cute in a kitchen?
Or maybe these horses....
How about the cow or sheep? These would work great in a gender neutral nursery.
Or if animals aren't your thing, check out these beautiful flowers; so nice and springy.
Lucy also has some great landscape pics. If spring hasn't quite arrived yet where you live (we still have patches of snow...), at least you can dream of someplace warm.
There are also some great mid-century modern prints to choose from , if that's more your style.
Lucy's photos would also make a great Mother's Day gift...hint, hint.
Here's the fine print on how to enter:
PRIZE: Two 11"X14" prints, including shipping.
NUMBER OF WINNERS: One
TO ENTER: Visit Lucy Snowe Photography on Etsy here, pick your favourite and then come back here and leave a comment telling us what you've chosen.
ADDITIONAL ENTRY: For a second entry, link this giveaway on either Facebook or Twitter, then leave a second comment telling us that you did so (or link to both if you really want to shout it from the rooftops, but only one additional entry is permitted). There are handy little buttons below for Facebook and Twitter - just click them and it will connect you.
GIVEAWAY CLOSES: Saturday April 28, 2012 at 6pm MDT.
PRIZE SHIPS TO: Canada or the United States.
If your blog is private, or you comment anonymously please be sure to leave your email address with your comment. Use (at) and (dot) so that the lovely spammers (ugh, annoying spammers) don't glom onto your email (eg. aswellplacetodwell(at)gmail(dot)com).
Ready, Set, Gooooooooooooo